It's always lovely to hear someone's dream has come true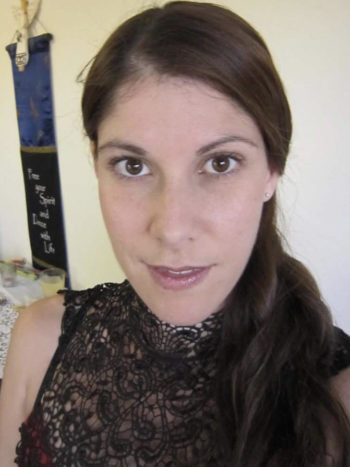 Julie Torrisi studied the Foundation Course in Rudolf Steiner Early Childhood Education (ECO1) in 2018. She's now enrolled in ECO2, the Certificate Course in Rudolf Steiner Early Childhood Education and has a new job at Glenaeon, in the kindergarten. Here she talks about why she enrolled and where the course has taken her.
Julie's Story:
"I've always been interested in teaching. As a child I used to teach my siblings and even my dolls! When I finished school I went and did a Bachelor Of Education and started teaching in primary but I always felt drawn to the lower school. Doing the Early Childhood Foundation course at Sydney Rudolf Steiner College was the perfect stepping stone to help me be where I am now.
What I loved about the Foundation course was that it was very in-depth and early childhood specific. I'd already been to other Steiner courses and conferences in Australia and overseas and often felt they'd glossed over areas that are very meaningful but superficially covered. The College's courses were in-depth and the tutors are very experienced. Many of them bring over 40-50 years of working knowledge to their presentations; they can not only talk about what Steiner said about aspects of childrens' development but they can demonstrate and reinforce key learning with their hands-on work experience.
I did the course by distance, which meant flying up from Melbourne for each of the 8 weekends, but it was worthwhile. The weekends cover different specialisations in a very focused manner. Each tutor has a phenomenal level of expertise and what sets them above others is their willingness to share their knowledge. You feel as though they are imparting their wisdom, like they're passing on the baton to us younger educators. It's humbling but at times I had a sense that I was part of a special moment, an incredible transition of knowledge from one generation to another.
Without a doubt, doing the Foundations in Rudolf Steiner Early Childhood Education (the ECO1) helped me get my new job as the Little Kindy Teacher at Glenaeon school.
I'm truly grateful to have had the opportunity to be trained by some of the best Steiner Early Childhood teachers in the country. Their knowledge and wisdom is truly inspiring. I feel more confident that as an early childhood teacher I will be able to provide the best quality care and education for young children to give them the best start in life.
By Julie Torrisi, 2018 Graduate of the Foundations of Rudolf Steiner Early Childhood Education (ECO1).
All images belong to Julie Torrisi.
If you'd like to talk to us about enrolling, please call the office of the Sydney Rudolf Steiner College on 02 9261 4001 or click here to read more about Foundations of Rudolf Steiner Early Childhood Education (ECO1)